See why more people recommend Greenwich Village School: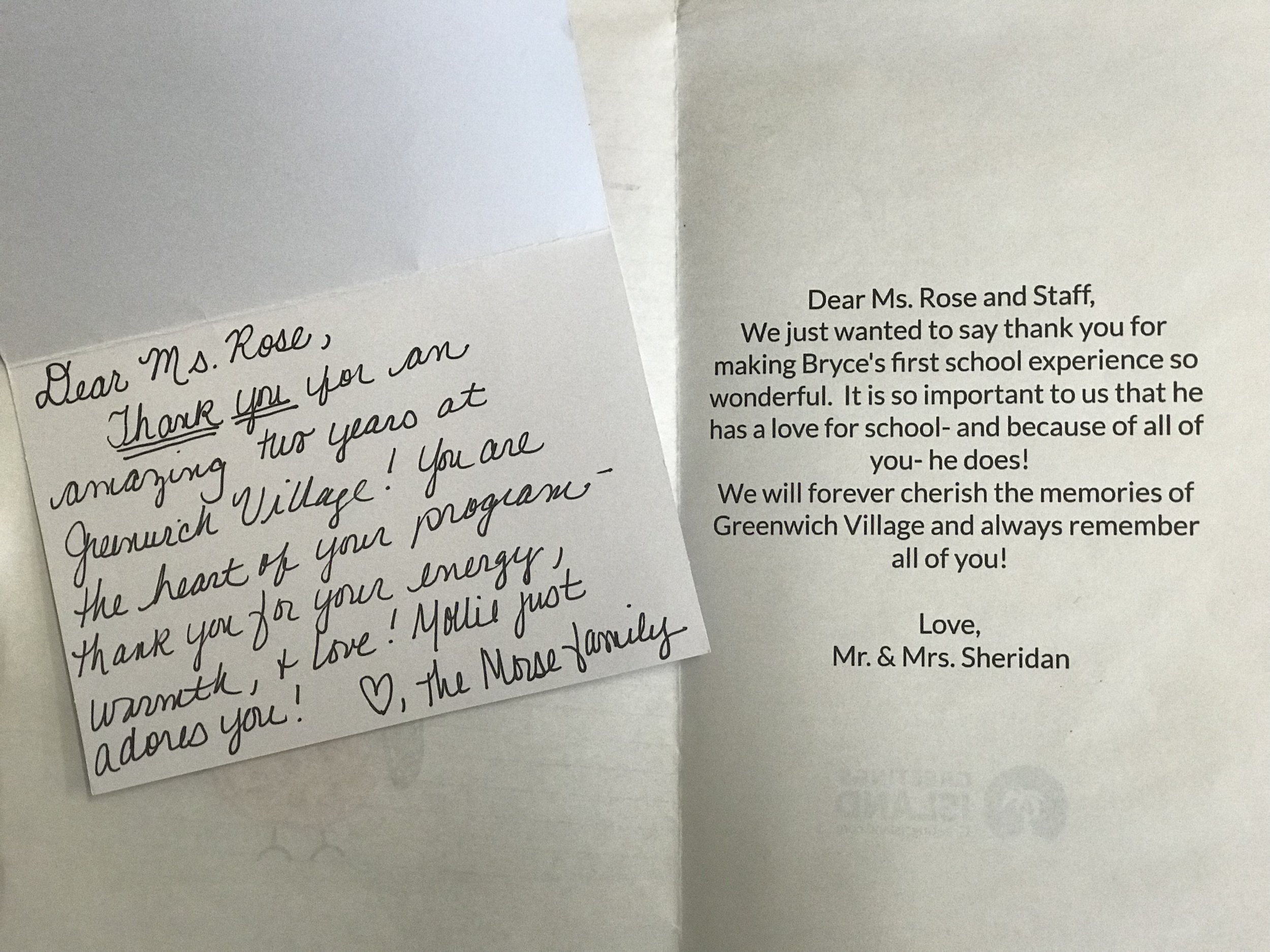 "Ms. Rose,
We can't thank you enough for the opportunity you provided for us these past two years by giving the girls a school where they could be themselves and feel so comfortable. We had no idea what was in the store for the twins future but I know by your teachings and dedication that we couldn't have found a better school to prepare them for their next chapter in their lives. We have grown to love you and it will be sad not seeing you everyday next year. Don't forget us because we will never forget you!
Class of 2018 preschool, Chaves Family"
"Dear Ms. Rose and Staff,
We just wanted to say thank you for making Bryce's first school experience so wonderful. It is so important to us that he has a love for school - and because of all of you - he does! We will forever cherish the memories of Greenwich Village and always remember all of you!
Love, Mr. & Mrs. Sheridan"
"Ms. Rose,
Thinking back on the preschool years we will always remember the times of the haystack fights or water gun fights where you were always the center of it and smile. Thank you for treating us as family and more importantly helping us get the twins ready for the years ahead of them with their health, physically and emotionally. Chaves Family, Arianna & Chole"
"To our GVS Family, We miss you all very much. We have found Mackenzie a top notch school in our new N.C. home. She is doing great in school Largely due to all the wonderful love & learning from GVS."
"Dear Ms. Rose,
Thank you for an amazing two years at Greenwich Village! You are the heart of your program. Thank yo for your energy, warmth, and love! Mollie just adores you!
Love, the Morse Family"
"Ms. Rose,
Words can't express how grateful we are to have found this place. It has changed Joey's entire perspective of school. You are an amazing person and we are so honored to be a part of what you do! Thank you so much for everything and enjoy your vacation week!
Love, Joseph and family"
"I dropped him off two years ago when he was three years old and felt I was leaving half of me there as well. You have helped to shape him into the boy he is now."
"He's completely prepared to excel next year and going from full-day kindergarten to first grade will be a very simple transition."
"With two years of GVS Pre-School and one year of GVS Kindergarten behind them, Ethan and Alexander have become so well prepared both academically and socially. Their knowledge base and current math and reading skills far exceed other children of the same age who were not fortunate enough to have been schooled at such a fine institution."
"My husband and I have consistently been impressed with the staff at Greenwich Village School. Their emphasis is placed upon both academic and social skills. My daughter was exceptionally well prepared for kindergarten..."
"I must first start with saying how safe I feel while the children are attending Greenwich Village School. In a world such as we live in today you have to put safety first."
"Dear Ms. Rose, Ms. Coburn, Mrs. Dwyer, & Mrs. Sullivan,
I would like to thank you for the incredible work you have done with my daughter. I never thought Rylie, at age three, would be coming home from school after just two weeks with the ability to write her name. I never thought that little girl attached to my hip would run from me at the sight of that little red school house, because she had developed such a love for school. I knew from the first minute I walked thru that door, GVS was the "perfect" school for Rylie. I am truly amazed what she has learned there in such a short period. She has bloomed and blossomed more than I could have imagined, not only as a student but her personality, and I have you to thank for that. You have planted the seeds that will help her grow throughout her education. I know she will always look back and remember you and the most wonderful two years she has spent with you. She is my only child, and it breaks my heart that this is the end of nursery school. I can't believe my little peanut is already to go to Kindergarten. It's unquestionably bittersweet. We are excited about the future, but will continuously smile at the past. So when I hear someone mention that wonderful school that you are such a big part of, or that "crazy Ms. Rose", my heart will always skip a beat. I hope you all wear this gift well. Rylie was absolutely tickled pink to give them to you! They were made by a dear friend, and when I saw she was making them, I knew they would be perfect! Just a little memory of Rylie for you!"
"I am both saddened and happy at the conclusion of our Greenwich Village years. My children have grown and learned so much in your protective arms. They learned to be humble and how to find their voices. You are amazing women, you hand picked a teaching staff that is amazing. I hope you will always find a way to fight the good fight and advocate for our childrens future!
Classes of 2007, 2008, 2009, 2010 and beyond!!"